Pregnancy and Exercise; The First Trimester
So you may have had the wonderful news that you are expecting a child and suddenly find yourself wondering about the changes that are about to begin with your body. Maybe you are concerned about how much weight you will gain? Perhaps, like many women, you desire to keep your weight gain whilst pregnant, to a minimum.
Exercising whilst in your first trimester has been shown to be one of the best things you can do for you and your baby.
Some of the benefits of exercise in the first trimester include:
Prevention of depression and assistance in physical and mental wellbeing.
Assistance in eliminating pregnancy aches such as backache and pelvic pain from improved core strength and stability, whilst gaining stronger bones.
A reduction of fatigue
The maintenance of a healthy weight, which in turn will lower the chances of gestational diabetes.
Assistance in alleviating constipation; a common pregnancy symptom.
Promoting better circulation. Exercising also means that pregnant mums are less likely to suffer from varicose veins, swelling and high blood pressure.
Getting a better night's sleep.
Aid in returning to pre baby weight post birth.
Strengthen the muscles used in birth and strengthen the pelvic floor
Gaining strength and getting ready for a successful delivery.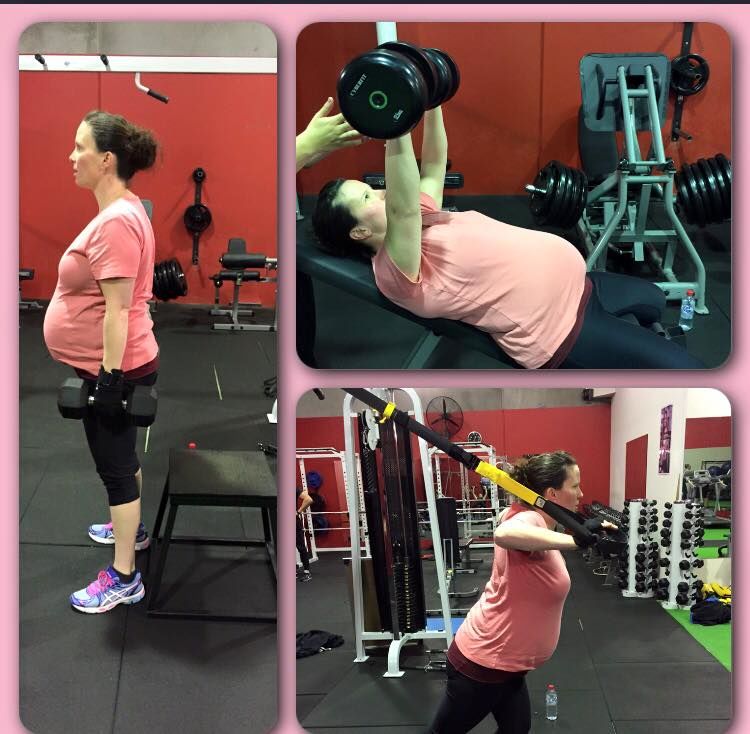 (MPT member Mel exercising safely all the way through her pregnancy- she has now given birth to 2 beautiful boys)
Keeping yourself fit throughout your pregnancy is not just about keeping that unwanted extra pregnancy weight off; It's about keeping yourself and your unborn child healthy, preparing yourself for birth and keeping those unwanted pregnancy symptoms away.
In the first trimester, you should aim to be keeping your fitness levels up and preventing too much weight gain. It's also not a time to be starting a new, more rigorous training program or diet either. If you have never exercised before, make sure you speak to your midwife or doctor to seek their advice on beginning an exercise routine. Generally you can do light to moderate exercise and gradually building up to 30 minutes a day, three to five times a week.
If you are already active, then keep it that way! Generally in early pregnancy you can remain training at your current intensity, and lifting the same weight if you are able to do so. However, if your cardio is a very high intensity before pregnancy, it is best to drop that intensity down a notch. Before I fell pregnant with my daughter I was considered very active; I ran every day, competed in endurance events and regularly trained at the gym. Becoming pregnant changed all of that, especially in the first trimester. I went from being a very active woman, running for an hour, to a woman feeling bloated, sick and unable to walk slowly on a treadmill for ten minutes without breaking into a sweat and a serious case of nausea. Some women are lucky and not overly affected by early pregnancy…. I, unfortunately was not.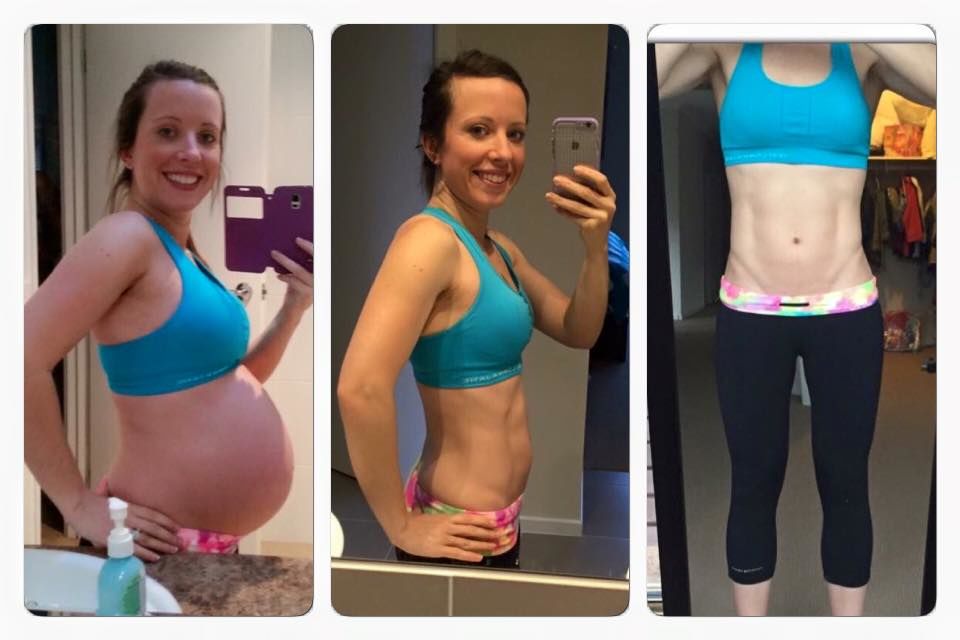 (An MPT member Jess- during pregnancy and after pregnancy)
So, my first piece of advice is, not all of us can power through pregnancy and keep ourselves at the same level of training we once did. Don't be too hard on yourself and just do what you can. If it means just going out for a small walk and some light stretching, then do that. Aim to keep yourself moving and being active; it will actually help you feel a bit better and less tired. One of the best ways to keep active in early pregnancy and increase your strength is with resistance training. Resistance training twice a week is a great way to keep physically active whilst pregnant. It will help you increase your strength and will prepare your body to carry the extra baby weight and also assist in strength for delivery.
Your entire core and abdominals can continue to be strengthened throughout pregnancy. This will not only help you throughout your first trimester, but also aid in the delivery and recovery. Weight training and core work will greatly assist in good posture also for after your baby is born; during this period you will be carrying a growing child around.
Another thing to factor in your workouts is the temperature of the environment you are in. It is not recommended to causing your body to overheat, especially in the first trimester. Therefore classes such as bikram yoga should be avoided, as should swimming in pools warmer than 23degrees celcius. Sports that may cause you to fall should also be avoided, such as snowboarding, waterskiing, horse riding, skating and gymnastics. Any other sports where you may also be hit in the abdomen should also be avoided.
Including Exercise into your daily life while pregnant has a wealth of benefits and can be an enjoyable part of your day. Remember every woman and her pregnancy journey will differ. When doing any physical activity make sure to listen to your body and stop if you feel uncomfortable, short of breath or have any abnormal symptoms or pains present. Always seek advice from your doctor prior to starting a new exercise routine during any stage of your pregnancy.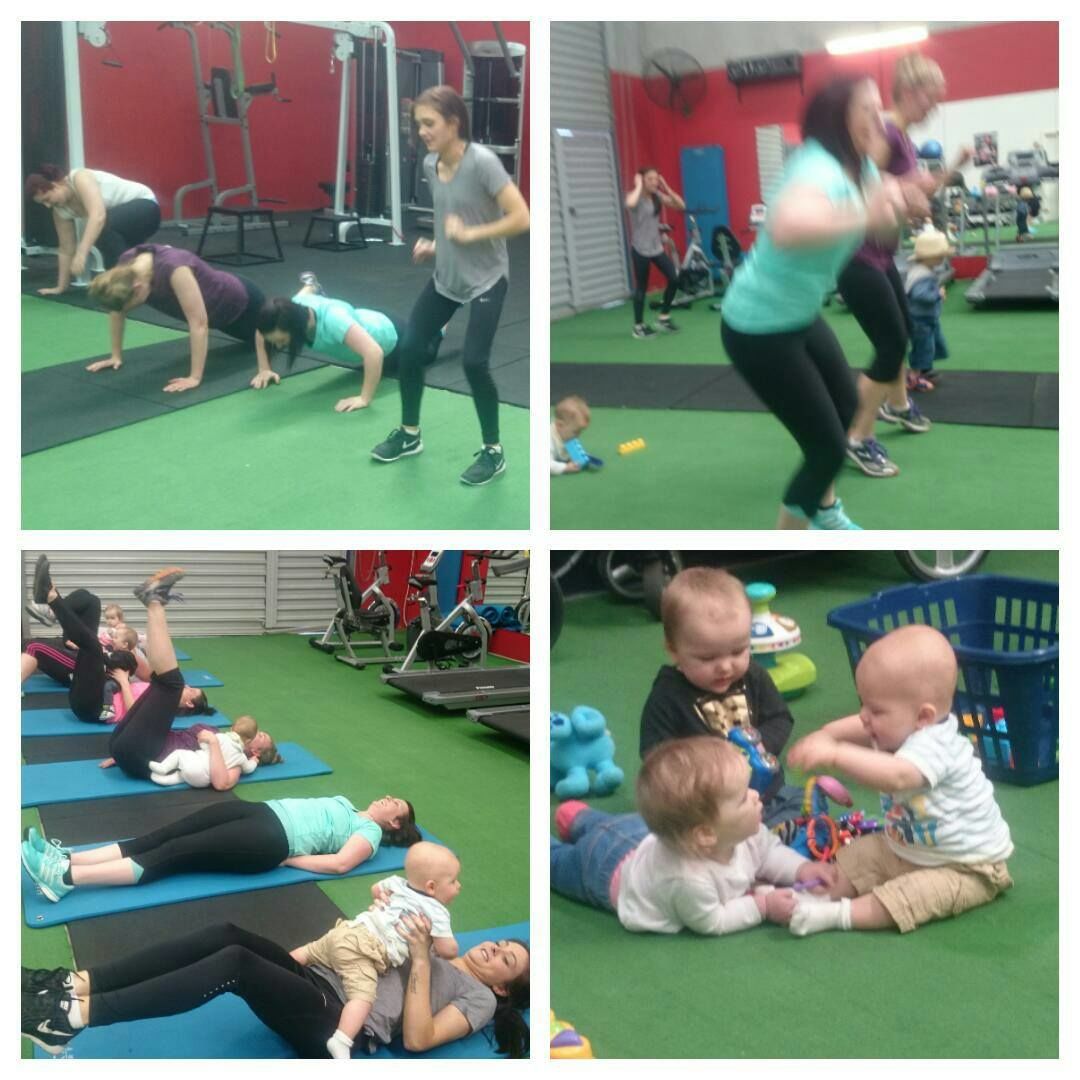 (Some of our fabulous Mum's participating in our Mums n Bubs sessions)