MPT Does Everest Base Camp
Ticking off that bucket list with MPT….
There are many beautiful sights in the world and an abundance of beautiful places to visit. One such place that is always high on many peoples lists of places to see is the world's highest peak; Mount Everest.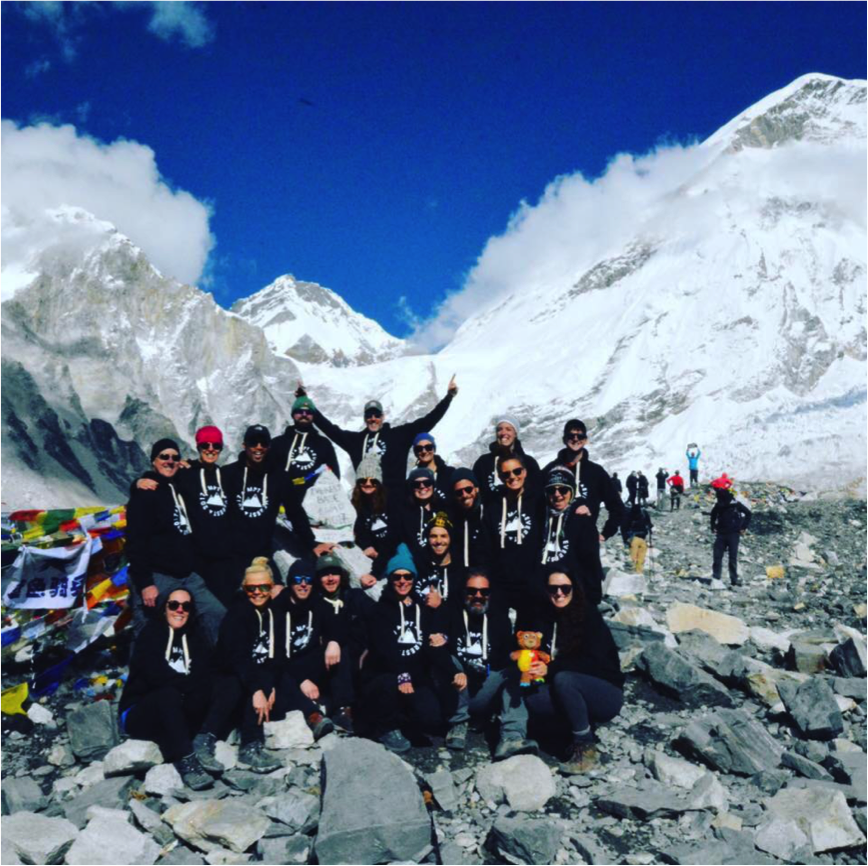 (The MPT crew; Everest Basecamp 2017)
Forever on our personal bucket list, both MPT founders Fern and myself (Travis) decided that the opportunity to take some of our amazing clients to the world's most awe-inspiring peak was too good to pass up. We love our MPT community and put the feelers out for any interest in a base camp trek and these lucky MPT'ers took the opportunity with open arms….and what an experience we had.
Early flights, monkey business and some quality clothing….
Our trip started where all great adventures do; the airport. Up at 3am and off to Tullamarine to begin our journey. From Melbourne, we jetted off to Hong Kong, then after a short stop over we arrived in Kathmandu for a few nights for some much-needed R&R before our trek started. We stayed in the heart of Kathmandu and started to explore immediately. We visited the sacred monkey temple, perched high in central Kathmandu, then wandered the streets and took in all that the street vendors had to offer. Each stall offered a variety of goods from food, yak bells, wooden carvings and "genuine" North Face apparel, with each vendor swearing by the all so familiar quality of their own stock. Our time in Kathmandu was enjoyable, but we were all consumed by our next port of call; the infamous Lukla Airport.
A dangerous airport indeed….
The morning was upon us; Lukla Airport. The world's most dangerous airport and for many, a major fear. Lukla is an airport perched high on the edge of a mountain…. flights can only commence with perfect weather and once the plane lands it has little to no time to slow down, swerve into the docking yard and stop. We are separated into 2 groups, packed into our respective buses and then onto our planes; each one holding 12-15 people. The tension with our group was lessened somewhat with our air hostess falling out of our shuttle bus (luckily, she was completely fine, with only her ego hurt through embarrassment). The flight went seamlessly for both groups and we landed in Lukla safely…. our adventure was about to begin.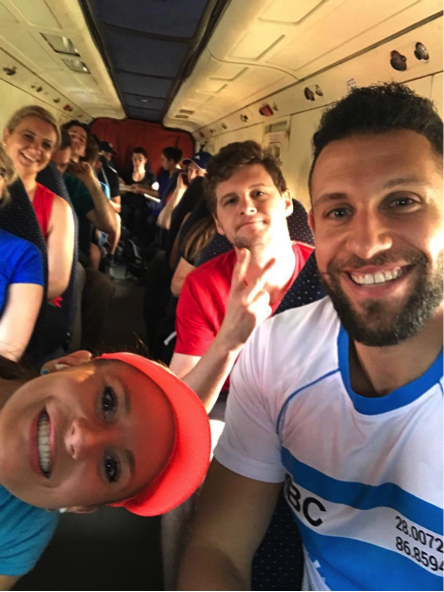 (Our first Lukla flight)
Our trek begins….
Our first day's walk started after a hearty breakfast in Lukla. The day would be a relatively easy walk to the town of Phakding and our first nights' accommodation. The day started with a trek through Chaurikharka village and a descent towards Dudhkoshi Ghat. The trail followed the bank of the Dudhkoshi River until we reached the town of Phakding (with an elevation 2,652m/8,700ft), where we would be staying for the night to acclimatise. We crossed our first suspension bridges, passed our first yak train and caught a glimpse of some truly beautiful peaks. We also met our guides for the first time; Mingmar, Purrba, Nurvu and our head guide, Ishwor. These men would lead us to basecamp and would also become great friends along the way. We settled into our new digs, ate dinner as a group and played our first game of Uno; the game that would be played on nearly every night of our trek, much to the chagrin of the other trekking parties in the teahouses that wanted an early night's sleep…. we fast became that "noisy Australian lot" wherever we went; laughing and joking into the night amongst ourselves and with our guides.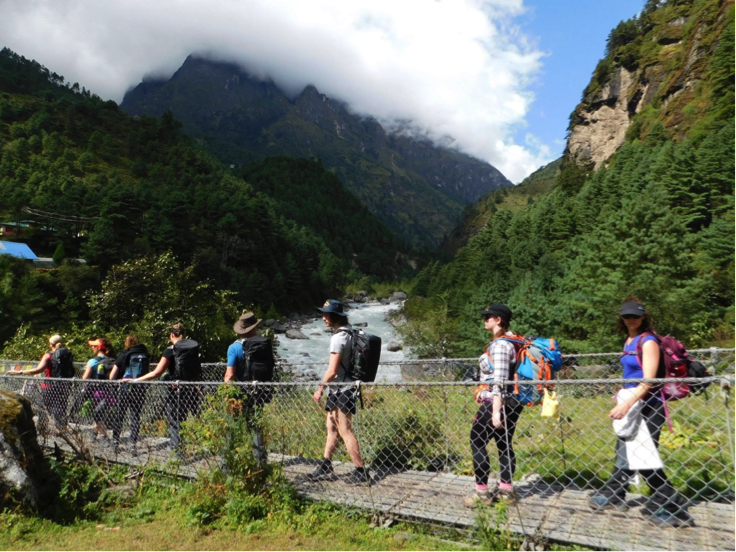 (The final suspension bridge on day one before we reach our first tea house in Phakding)
On to Namche….
After a much-needed night's sleep, we ate our breakfast, geared up and started on our way to our next destination; Namche Bazaar. Namche is the biggest Sherpa village in Nepal and one truly gorgeous town. Our trail took us over the Dudhkoshi River via a long suspension bridge, and then through a beautiful pine forest to Monjo. Soon thereafter, we came upon the entrance to Sagarmatha National Park and then descended to Dudhkoshi River and then to Jorsale. We ordered lunch (many opting for the traditional Dahl Baht mea (a curry-like dish that is the only one that is available for seconds). This was a personal favourite of mine, before a small case of food poisoning. After that, I kept my distance from the Dahl Baht….an uneasy truce).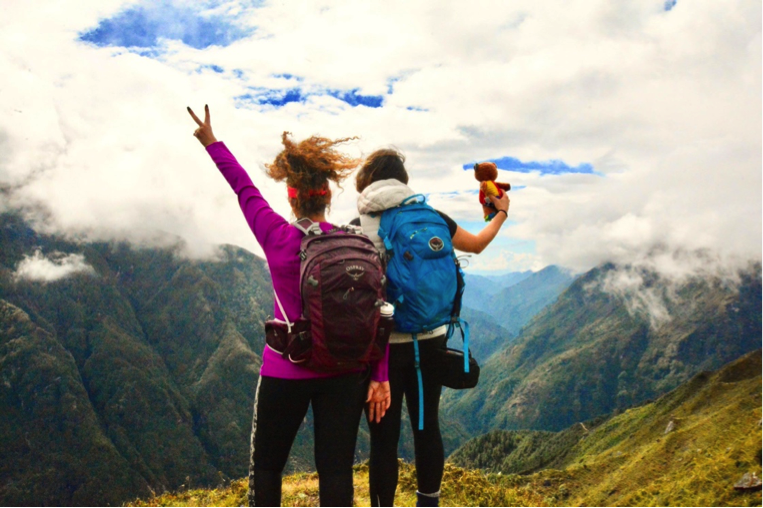 (MPT'ers Tana and Nicolle taking the views in)
The path along the riverbank brought us to our first truly iconic spot; flanked by two crossings, we caught our first glimpse of the Hillary Suspension Bridge; A beautiful bridge perched high in the mountain, the bridge was rebuilt above the old bridge and is a site to be seen. The bridge sways and moves with the wind and the movement of bodies, but for some reason it felt completely safe.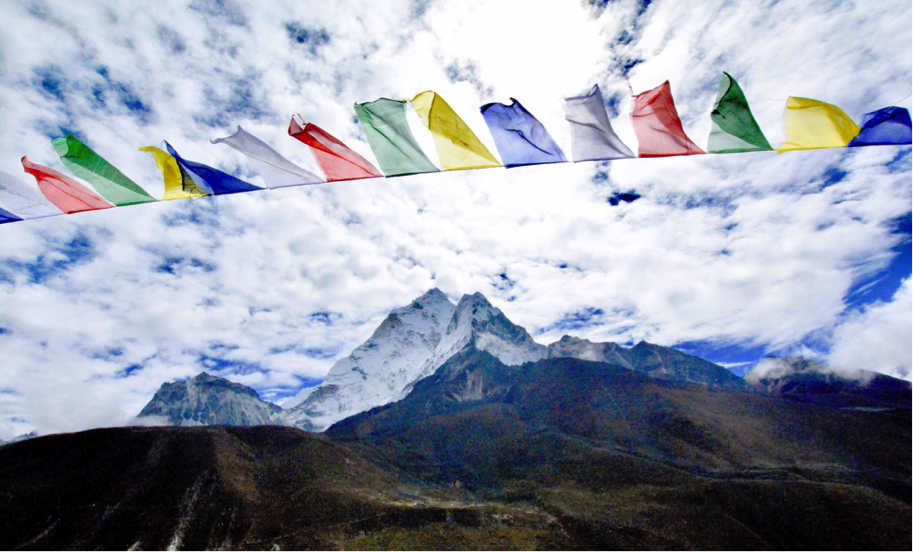 (The view from our acclimatisation hike)
Like all bridges, we took pictures, laughed and helped one another across. Once over the bridge, the climb began; we pushed forward up the mountain, finally arriving at Namche Bazaar with our first glimpse of Everest awaiting us.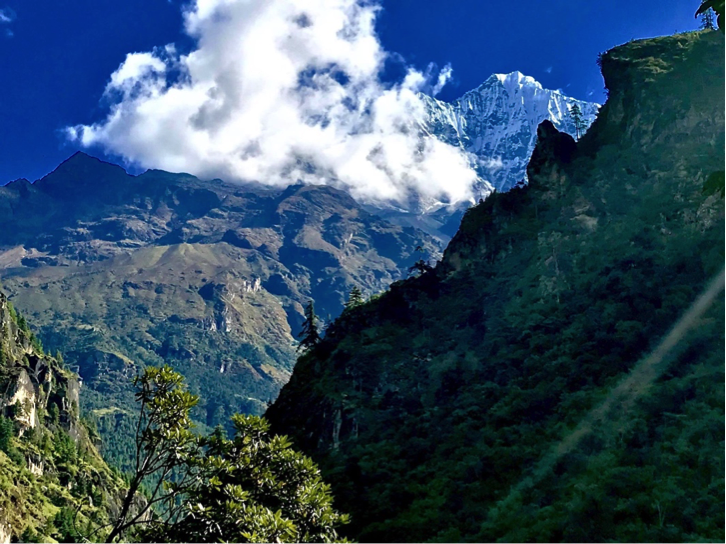 (Our first glimpse of a snow-capped mountain)
Namche is a truly beautiful town; jutting out of the cliff-side, it overlooks the beautiful mountains, has terrific shopping, and despite the heavy western presence has still managed to keep its old-world charm. While roaming the streets on our first morning there I was caught up in a yak train…. "where else would you get to experience this?" I said to myself, as these magnificent animals were herded past me. The 2 nights we spent in Namche were unbelievably serene. The first night was spent playing Uno, exploring the streets and taking in the beautiful views. The next morning was a 2-hour acclimatisation hike where we hiked to the highest hotel in the world.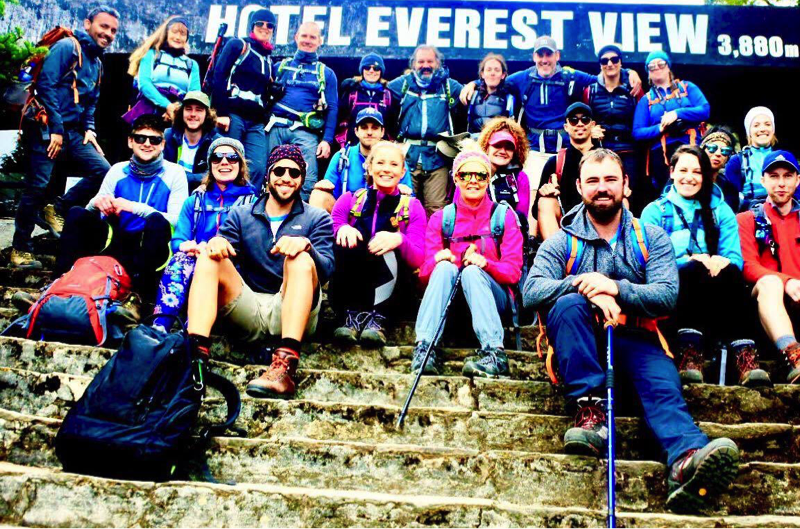 (Acclimatisation hike to the Hotel Everest View)
We arrived back in Namche after lunch which allowed by shopping for some, a movie for others, and for some of us a trip to the Sherpa Museum to pay our respects and learn more about these amazing men. For decades, these unbelievable fit and devout men have helped people summit the world's highest peak, helping others realise their dreams and perishing in the process. After another fun-filled night of laughter, shopping and, of course, Uno, it was soon time to leave Namche….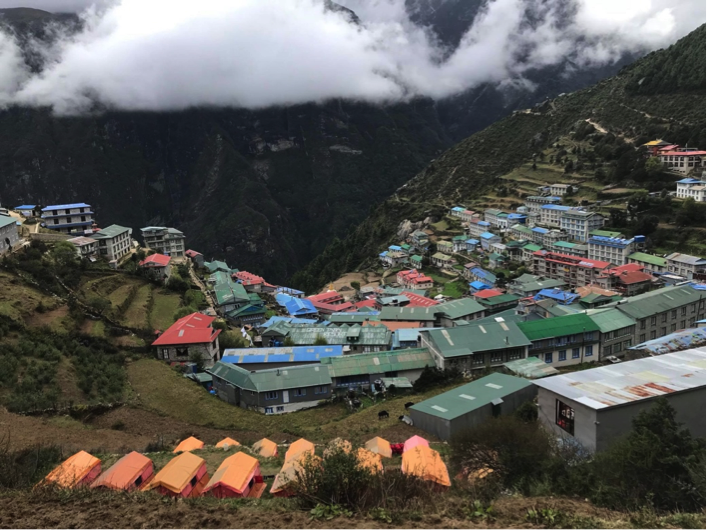 (The ever-beautiful Namche Bazaar)
Day 6; Namche to Tengboche
We left Namche en route to the town of Tengboche. Walking to an altitude of 3,870m/12,684ft and a 10km hike it was certainly a challenging, yet rewarding day. The day afforded us views of the beautiful Nuptse, Lhotse, Ama Dablam, Thamserku and Kwangde mountains. A short drop took us to the riverside, where we headed across the river and upwards through the forest pass. There we trekked uphill, alternating between a gradual grade and some extremely steep sections! After a couple of hours, we came across the famed Tengboche monastery, which is one of the largest in Khumbu. We were fortunate enough to have a guided tour of the monastery grounds from our fantastic guide Ishwor, who helped us understand the importance of this wonderful site. After a long slog, we arrived at our destination; Tengboche. This beautiful town is known for being one of the most beautiful places in the Everest region. Its views, which are legendary. However, reading about places such as this, and actually seeing them with one's own eyes are altogether different.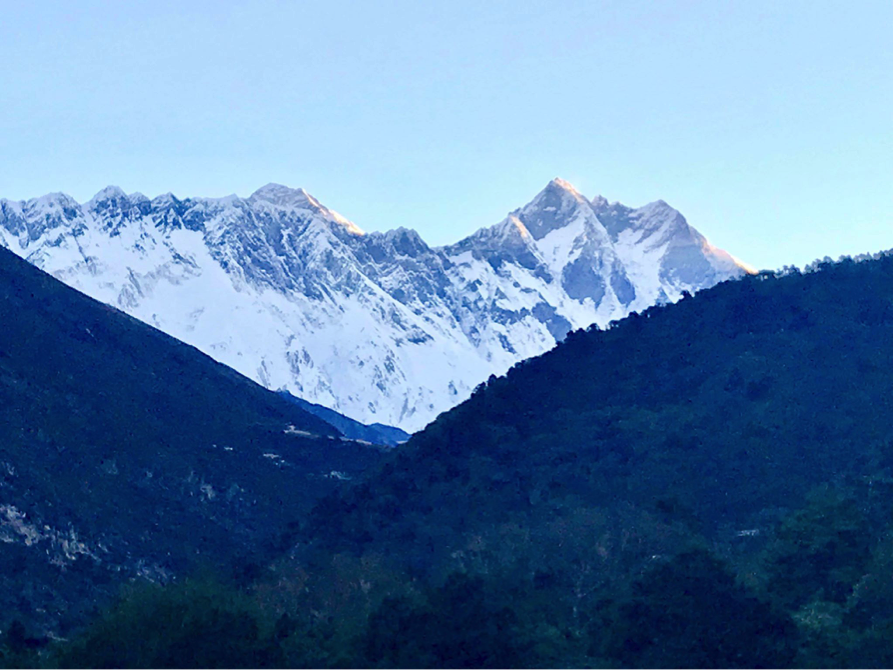 (Mountain views from Tengboche)
Tengboche is a beautiful part of the world; walking amongst the clouds and sitting at the foot at the magnificent Ama Dablam mountain, it is easy to lose yourself in the beauty and serenity of this wonderful place. There is nothing like waking up and peering out of your window and seeing 8,000 metre mountains, and the views afforded to us were spellbinding. Our nights, as always, were filled with laughter, an entirely vegetarian menu and Uno; our resident brit, Matt, was unlucky enough to be handed an 18-card pick-up after a deluge of draw two's and draw four's…. he will never forgive anyone for this. As usual, our laughter and excitement echoed through the tea house, with many wonderful moments shared in each other's company. It was off to bed and on to our next destination.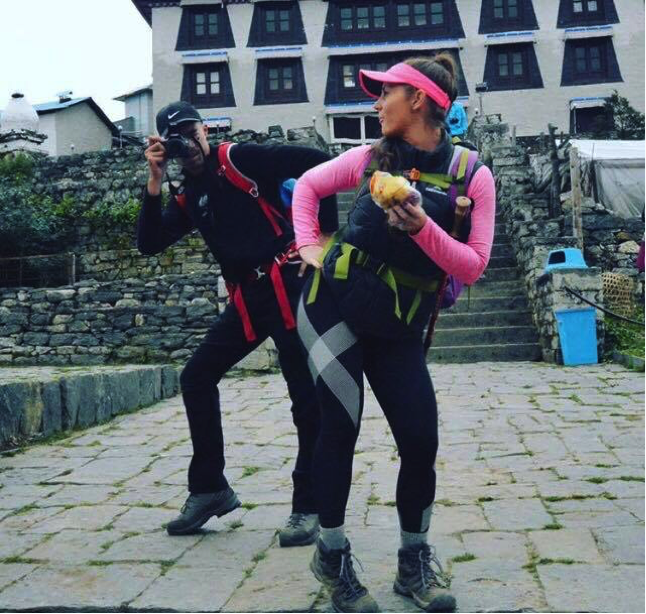 (MPT'ers Fern and Jason working that camera)
Tengboche to Dingboche (what a mouthful)
Our daily trek today kicked off with a walk through the rhododendron forest to Deboche, followed by a bridge over the raging Imja Khol River. We'll passed the valley wall and then traversed the plains to Pangboche village, the biggest settlement of Sherpas in the region. It was always enjoyable being in traditional Sherpa villages and having lunch with the locals. The people of Nepal are very welcoming. The children laugh and smile, and are always quick to greet you with "Namaste" whenever you happen by them; my sister Tana brought small presents and would hand them out to the kids whenever she could.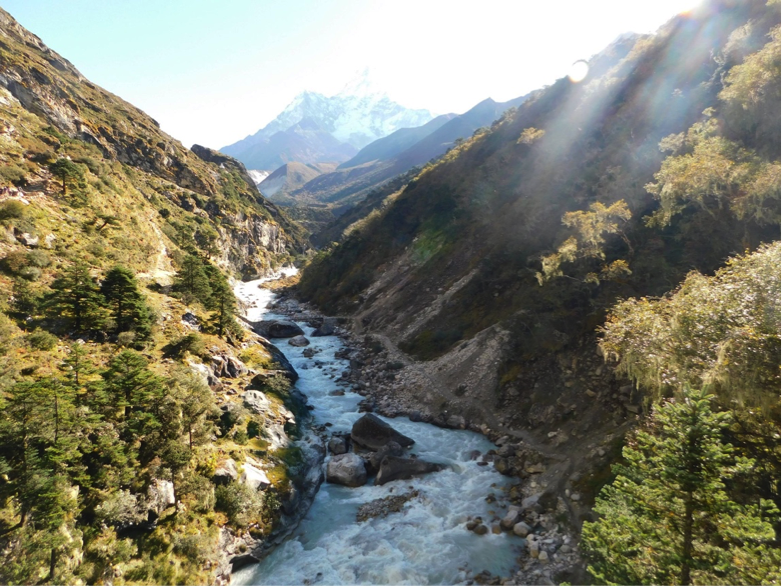 (Beautiful daily views from the suspension bridges)
They were so grateful and to see them smile was as rewarding as the miles we were getting into our legs. The afternoon saw a drastic change in the landscape, with trees and fauna giving way to deserted mountains and we hiked on towards Dingboche. When we reached our destination, it was even more breathtaking than the day before; that's the thing about this trek. Every single day you see more beautiful mountains and get blown away from the splendor of it all. We were now staying at an altitude of 4,400m. We wandered around the town, as we often would. Some stayed in their own cliques and went went off alone to see what other beautiful views were on offer.
The next day was somewhat of a rest day, compared to that of the day before. The day started with an acclimatization hike; these are integral when hiking at altitude, as they help the body to get used to functioning in surroundings with less oxygen. The hike took us 3.5 hours as we marched directly up a jutting part of the countryside. The views when we arrived at our stopping point were well and truly worth it.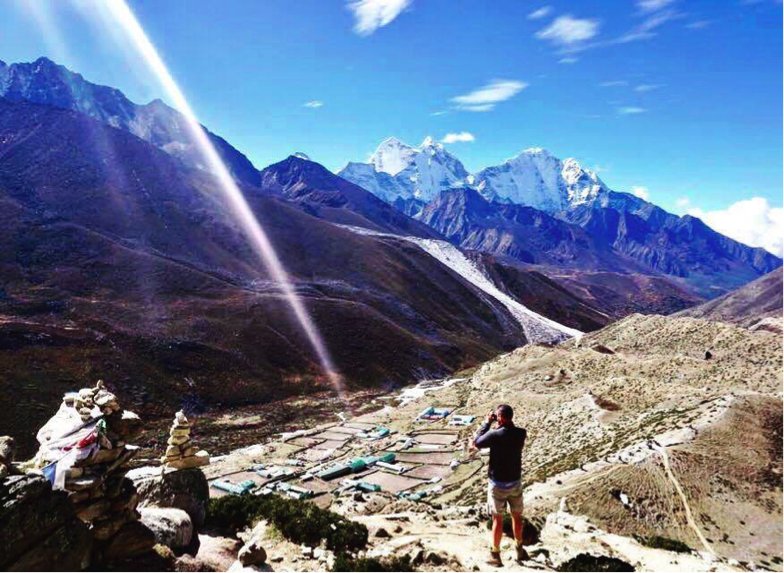 (What a view!)
There were 360 views of beautiful mountains, un-named hills taller than anything we have in Australia and a valley reminiscent of New Zealand's Tongariro Trail. It was just beautiful. We took our pictures, marveled at a Sherpa man carrying 15 slabs of drink on his back and started down toward the town. The rest of the afternoon was spent relaxing, talking, laughing and taking pictures.
There was lots of downtime and very little internet on the trek; with such a contrast to the busy lives we all lead it was nice to actually "talk" to people without any distractions and get to know one another better. New friendships were forming with every coming day and we were also having a ball with our guides. It is amazing how being around good people enhances your mood and your appetite for life. That night, as we did every night, was spent in the tea house eating dinner together and then, of course, Uno. If in doubt on a long trip, bring Uno. After a few games, we were off to bed; we needed our rest for the days ahead.
Day 9; Dingboche to Lobuche
From here on forth our trek became more challenging, due to the higher altitude (nearly 5,000 metres). We passed the town of Dungla, but not before a tough, steep walk to the top of a very daunting that ascended nearly straight up. This day was extremely challenging and was our first glimpse of people suffering the major symptoms of altitude sickness. I remember seeing a woman from another group bolting past us on our ascent up the hill; within half an hour she was being carried back down. After conquering the hill and we stopped for lunch, with the usual cuisine of rice, eggs, pasta and dahl baht available.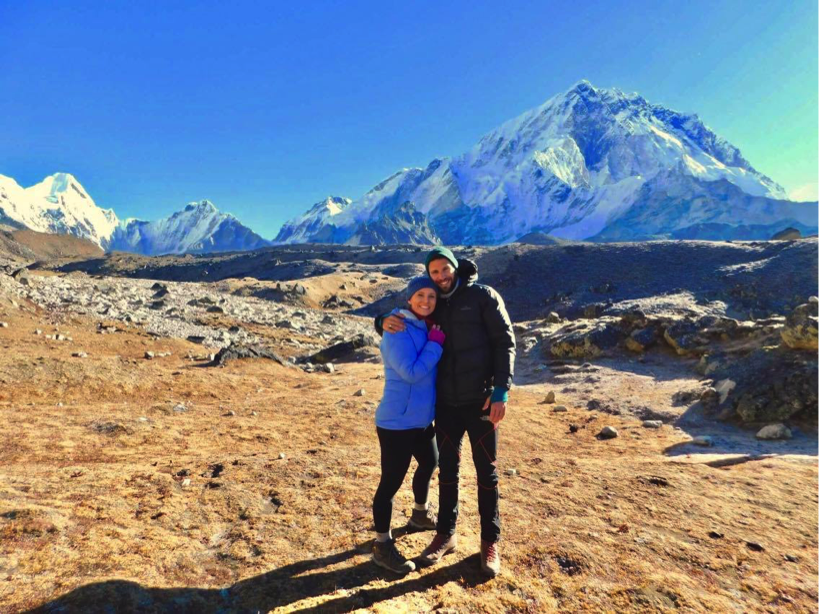 As we continued on we came across the memorial stupas dedicated to the climbers and trekkers who lost their lives to Everest over the years. This was a sobering experience; seeing the monuments built for those who had perished on top of the mountain gave you a sense of how dedicated these people were to achieve their goal and also gave an insight as to how dangerous climbing that great mountain is. After yet another tough, yet rewarding day we arrived at our destination; the town of Lobuche.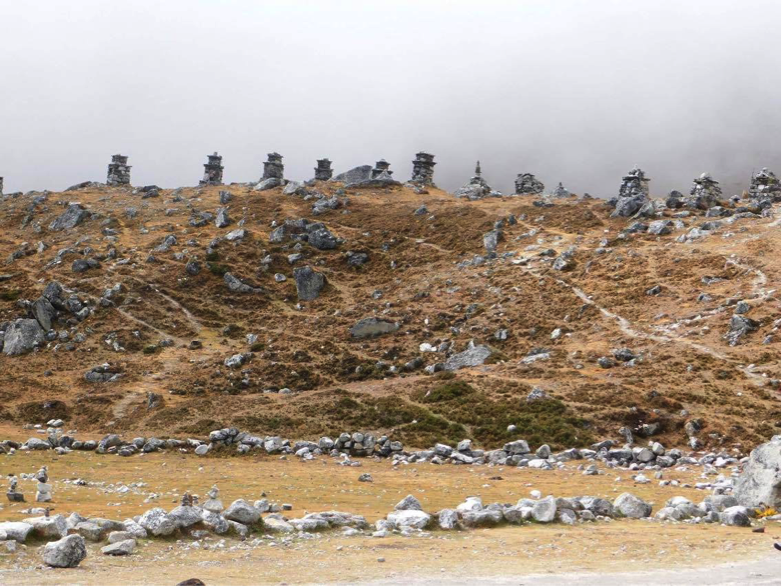 (The Everest memorial)
This craggy mountain terrace is a small settlement with amazing views of Mt. Lobuche, Mt. Pumari and the Nuptse. This day was not only special because we were so close to basecamp, but also because it was MPT trainer Luke's birthday. After starting the morning with presents and a very handsome sash (which he valiantly wore for 2 hours) the night was spent celebrating his 32nd birthday, with many members pre-preparing gifts and MPT founder Fern organizing a cake for his special day. What a great way to spend your birthday.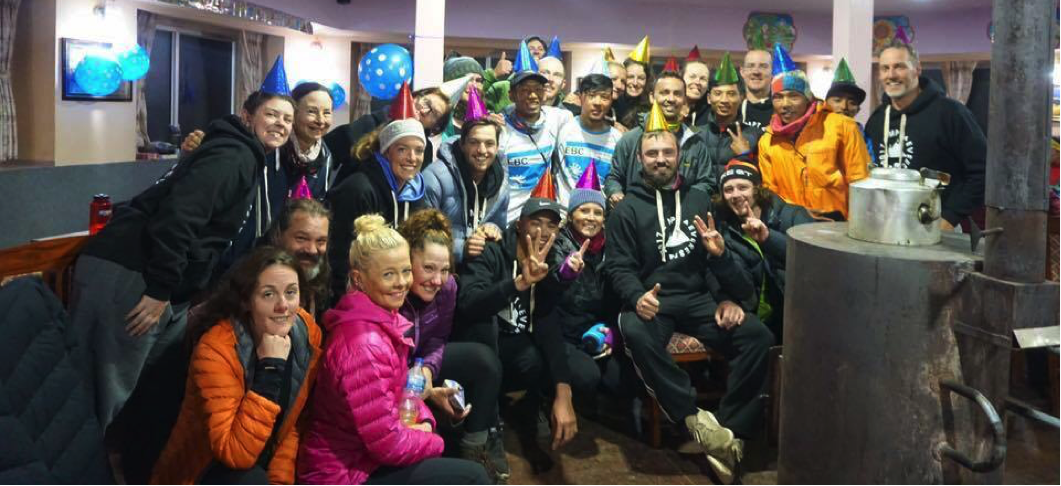 (Celebrating MPT trainer Luke's birthday)
Day 10; The Big Day…. Basecamp!
Here it was. The day had finally come; basecamp! Our big day kicked off with an initial, relatively easy trek from Lobuche to Gorekshep. We stopped at Gorekshep for food and rest, before we attempted to tackle the more undulating trek to basecamp. For me personally, and two of our other trekkers and MPT legends Steve and Adam, the night before was spent on tenterhooks. With our blood oxygen significantly reducing and the effects of altitude sickness setting in, we were fighting the clock to get to basecamp. I had a migraine for the preceding 3 days and the nights saw me confined to my room very early, clutching a bucket and trying to manage a fever whilst getting a few hours of sleep. Unfortunately, altitude sickness does not discriminate and it was very frustrating and humbling to be sick at this very important time. However, we were so close, and to give up was not an option.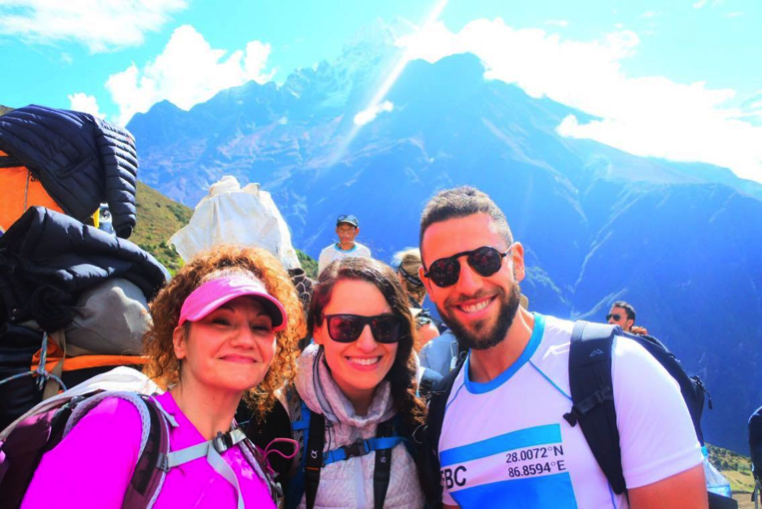 (Hiking with my sisters)
On this beautiful sunny day, we set off for basecamp. From Gorekshep, Steve, Adam and myself were confined to walking up the front of the pack; the easiest part of the trekking line. The walk from Gorekshep is rather tricky, with rocky dunes and moraine, formed accumulation of unconsolidated glacial debris. On the way passed the famed Khumbu Glacier and icefall, located on the slopes of Everest.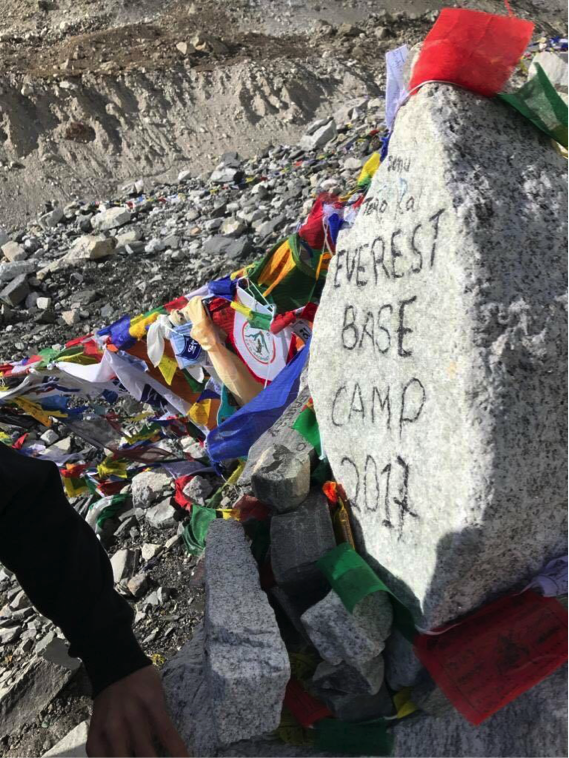 (Everest Base Camp)
This was seriously tough; for the entire way to basecamp myself, Adam and Steve were in our own little world. We were motivating and reassuring each other that we would make it and that with every hill we ascended we were that much closer. I missed floating among the group and taking pictures of everyone, but I was spent. After what seemed an eternity, we arrived at basecamp. We did it! 11 grueling, yet fun-filled days had led to this moment. I gave Steve, Adam, our guide Mingmar and anyone who was in my vicinity a huge hug. Basecamp is a very festive place; hundreds of people laughing, smiling, and, of course, taking pictures to mark their achievement.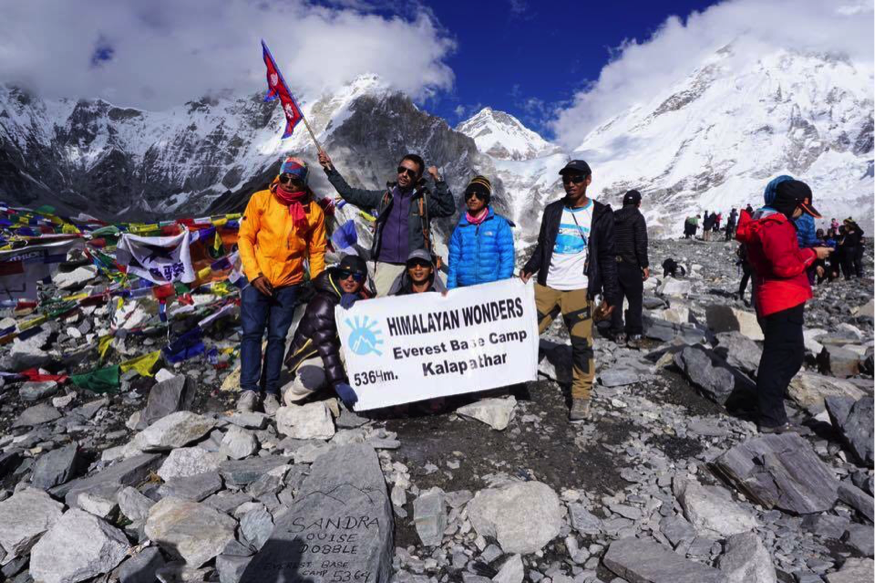 (Our amazing guide team at Base Camp)
After a while I sat away from the group and just took some time to think. It was a wonderful feeling to see all of our MPT team so happy. With the rigors of everyday life, we all accumulate a weight of sorts that we carry round. For many, it equates to a feeling of unhappiness, loneliness, and at times, loneliness. However, for those hours, and for much of the trip, people were laughing, helping one another and just living each and every moment. As the leader and as their trainer I just felt so happy to see everyone enjoying life without having to have a glass of beer or wine in their hand and to just be. For me personally, I got to complete basecamp with family; my two sisters, Tana and Nicolle were right there with me, and just as importantly, so were my fiancé Fern (the real reason MPT is so great), my brother-in-law to be Andrew and my mother-in-law to be, Julie.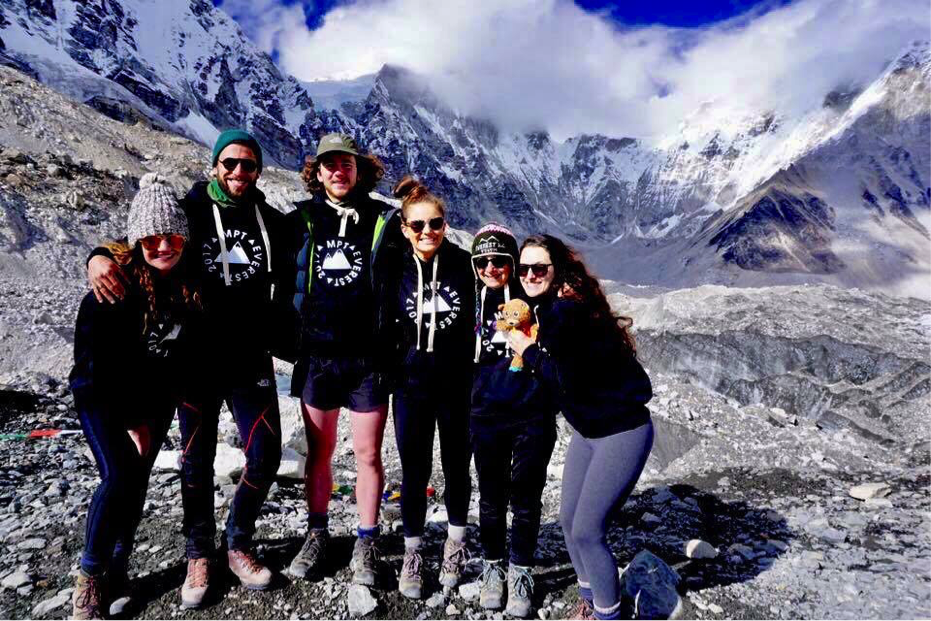 (Base Camp with both Fern and my families)
The day was perfect, but it was about to get even better. Resident MPT'er Jeff had a plan, and what he did next will probably put your own story to shame; this bugger went and topped every engagement story you'll ever hear by popping the question to MPT superstar and girlfriend Kate right then and there. Jeff and Kate have been at our Rowville club since the beginning, and their health, and love have grown so much in that time. If any day summed up what I loved about MPT Transformations, this was it; Fitness, Family, Friendships and Fun. After the customary photos and thanks to our guides it was time to head back; the sun was going down and this meant that the altitude would be intensified even more. The long walk back to Gorekshep started; we ascended the rocks and boulders at basecamp and started the slow walk back to where we would sleep for the night. The next morning both myself and Steve were choppered down due to altitude sickness; on the walk back from basecamp Steve could hardly stand, falling over and collapsing at one point. The resilience he showed was inspiring and I am sure that everyone in our trekking team felt the same way. That night was the highest point that we slept, and everyone had an early night.
(The legendary crew at the legendary mountain)
The Descent
The day after basecamp saw some of the team rise early to do the beautiful trek to Kalapathar for the beautiful sunrise view of the neighbouring glaciers and mountains (including the beautiful Mount Everest). After the descent, it was time for breakfast and then back into the hiking boots for the trek back to Lukla. The first stop would be Periche; a gorgeous town in a deep valley with beautiful views and rough terrain.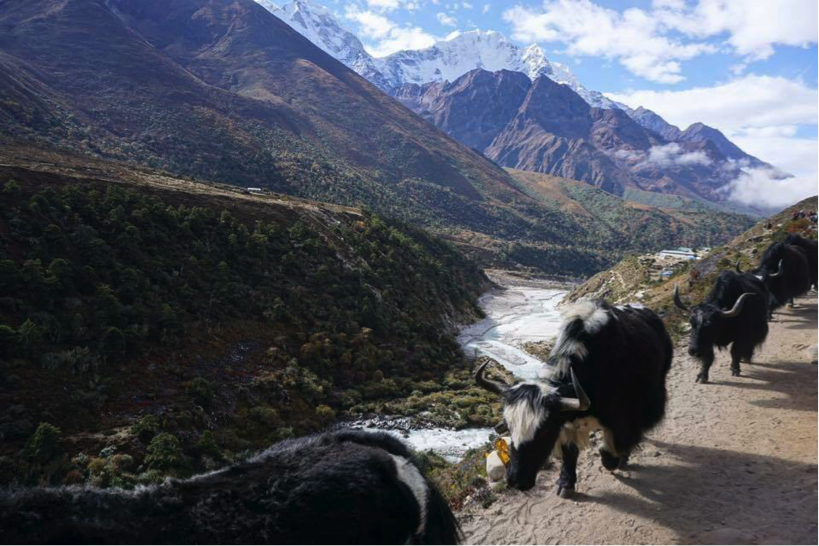 (A beautiful yak train)
According to Fern, Gorekshep to Periche was the hardest of all the treks; there was no Uno that night. With both lethargy and the high of basecamp now over, it was an early night for the MPT crew. For Steve and I, we spent the night in a hospital in Kathmandu, twiddling our thumbs and wondering why all of the staff were wearing flip-flops. We were fine, with the majority of our sickness being alleviated almost instantly when we descended down. We missed the group.
Day 12; Periche to Namche
The walk from Periche back to Tengboche was an undulating terrain with the crew forging on, now lethargic and exhausted. They stopped for the night in the beautiful city of Namche. I received a Facebook message from MPT'er Jason in the early evening. It read "Just got to Namche. Exhausted but still shopping". The crew were still in high spirits. This was the last night of official trekking spent on the mountain. That time tomorrow they would be in Lukla, one step closer to Kathmandu. Some received massages, shopped, had some coffee and mostly rested up in preparation for the coming day.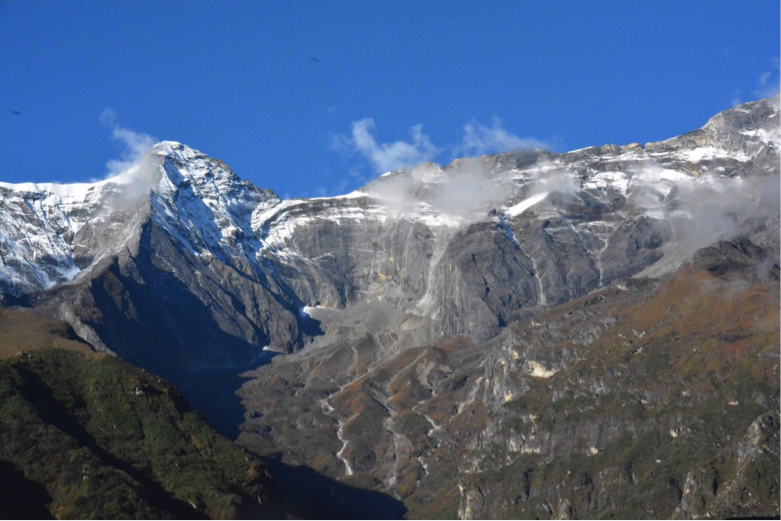 (The imposing beauty of the Himalaya)
The Swansong
Here it was. The last day. The crew set off from Namche to Lukla for the last day. After breakfast, the crew trekked yet again toward the Hillary Suspension Bridge and passed through several local villages. I hiked to Phakding and met up with the group. I loved seeing everyone again. They were all tired…. Very, very tired. From Phakding we headed for Lukla; our final stop. The walk to Lukla was essentially uphill the entire way. Our arrival in Lukla was punctuated by an evening in our last Tea House; this was the last evening with our guides and despite everyone being exhausted we sat with our crew, ate our last meal together, had a celebratory drink and enjoyed a party with the trekking crew.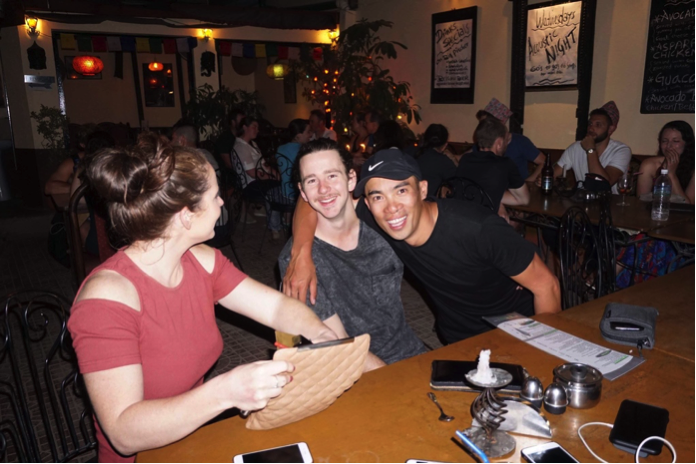 (Celebration time)
We got not only the opportunity to be around our guides, but also the porters who were lugging our bags up the hill; for those who don't know, the porters are the men who transport anywhere between 35-50 kilograms of the team's luggage to the next stop every single morning. To be able to thank these men for their service was very humbling. These men earn around $20 per day, and to see what they do is just awe-inspiring. After handing out the tips and thanking the team for their service, the dancing started…. porters, guides, and one Englishman; MPT member/legend Matt Scrase.
(UNO; the game of the Himalaya. Matt Scrase, look away now…)
Our laughter soon subsided and most of us got up and had a dance with the team. It was a perfect end to a memorable trek and one that every single person will hold dear. The final night is bittersweet; it is the end of an exhausting couple of weeks. On one hand you are glad to be heading back to Kathmandu to shop, eat meat and relax…. however, on the other hand you are already missing the breathtaking views, the lack of internet/distractions and the comradery of the group. That night everyone took a well-earned shower and hit the hay early. The next morning we were up early and on a flight back to Kathmandu from Lukla airport. The plane from Lukla literally takes off from the side of the cliff and should be experienced by every person at least once. As that plane took off I caught my final glimpse of the Himalayas; these huge, imposing, almost mirage-like mountains that capture the imagination of anyone who is fortunate enough to spy them.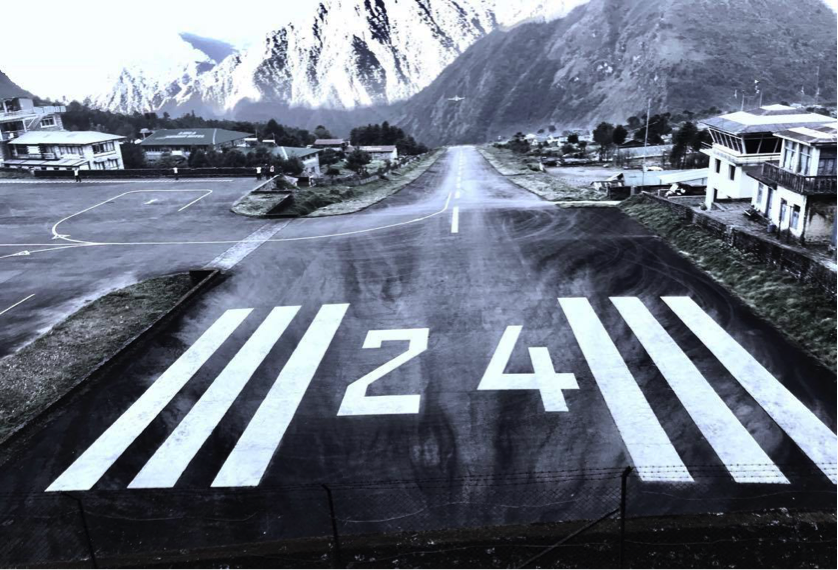 (Lukla; Round 2)
I thought about how lucky we were to see them, about all of the memories we had made in the process and the new friendships that were blossoming from this amazing trip. I can't speak for anyone but myself, but I felt a tinge of sadness as we took off from Lukla, knowing that our trek was officially finished. However, for any sadness that I felt I also felt happiness to do it with such a tremendous bunch of people; my MPT family…. The people I see more than my own family, and those who I enjoy seeing and speaking to every week. This trip was truly amazing and I cannot wait for our next trip next July to Macchu Pichu.
Special Mentions
Let me first start by saying that everyone on this trip was special, and everyone deserves a huge number of plaudits and credit for what they achieved; so, from everyone at MPT Transformations WELL DONE EVEREST 2017 BASE CAMP CREW!
Fern Malcolm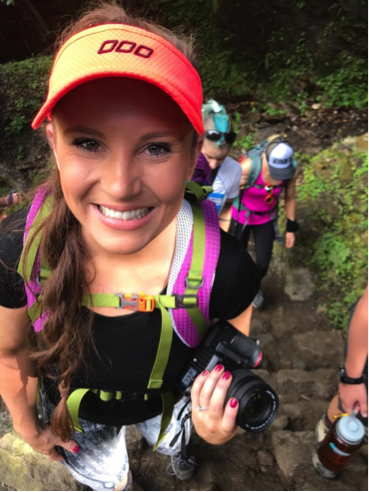 A trip of this magnitude would not be possible without someone putting the whole thing together, and this fell to the person who makes MPT tick, Fern Malcolm. Thank you for booking everything, organizing flights and just making sure that everyone had an amazing time. This woman works 80 hour weeks every week and still managed to put this together. Fern, you are amazing.
Jason Nix
(Jason, with the mythical 30 cup pot of tea)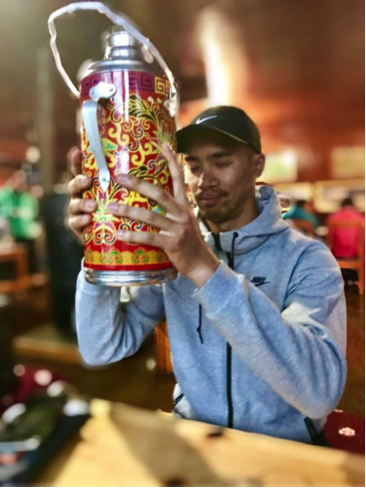 There are some people who just make a trip better through their presence. Jason was consistently encouraging his fellow trekkers, organizing catch-ups, buying people drinks and continually keeping the mood light. Jason is a member at our Rowville club and is always a positive force in the club. Thanks, Jase.
Liz Pereira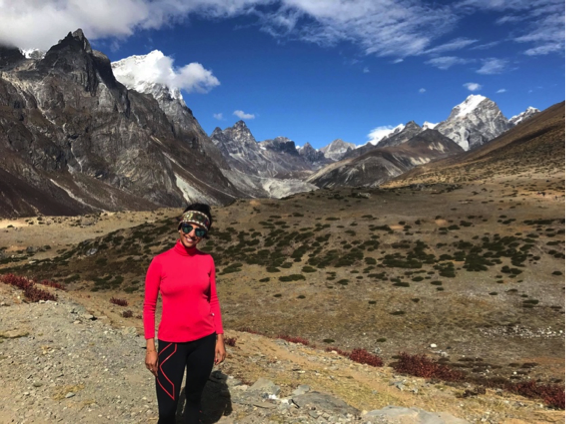 As well as being a conduit between us and the staff (Liz is originally from India, which made understanding the language of our guides much easier). Liz was also very generous with the staff on our trek. She continually bought meals for our porters and treated them with warmth and respect. Liz, this, as well as all of the lovely things you do, did not go un-noticed.
Lisa and Bianca
(The MPT heroes)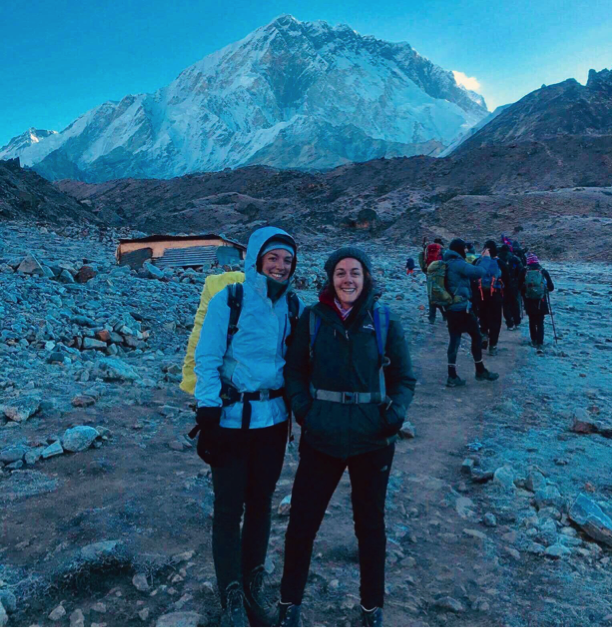 Lise and Bianca (B) are a paramedic and nurse, respectively. These two brought medication, antibiotics and anything that they thought we would need on the trip with them. They constantly checked in and helped those who were sick (myself included) and bought supplies for everyone else out of their own pocket. If that wasn't enough on the trek, what they did in Kathmandu was one of the most amazing things I personally have ever heard. In life, some people are forced to act on instinct in order to help others, and that is exactly what these two did. When the two happened across a young lady in the throngs of an anaphylactic episode, they sprang into action. The young lady had ingested nuts and her epi-pen was not helping to ease her symptoms. Lisa and Bianca quickly got her into a taxi and headed for the hospital. On the way, the young lady succumbed to her condition and was technically dead, with no heartbeat or pulse; the two girls brought her back using CPR and after a nervous night received word that she had pulled through. To say that we are proud of you two is an understatement.
Julie and Jean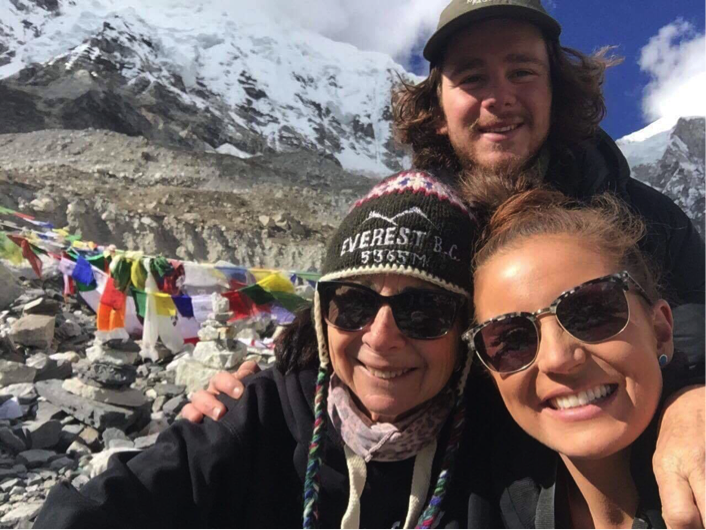 (Julie, left, with her kids Andrew and Fern)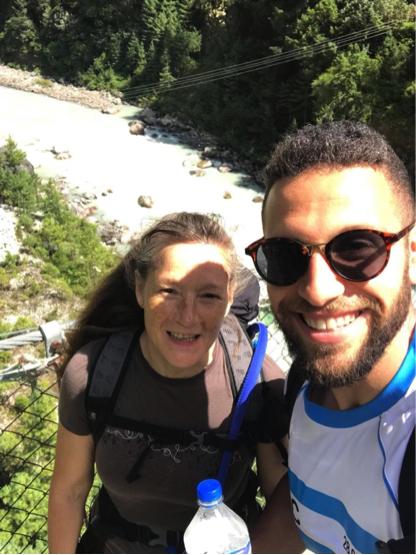 (Jean and myself)
The best thing about our clubs is that anyone is welcome; age, gender and fitness levels mean nothing to us. Many people in their 60's would be afraid to do a trek such as this, but not these two. Well done girls! Hopefully we see you in Peru.
Jeff and Kate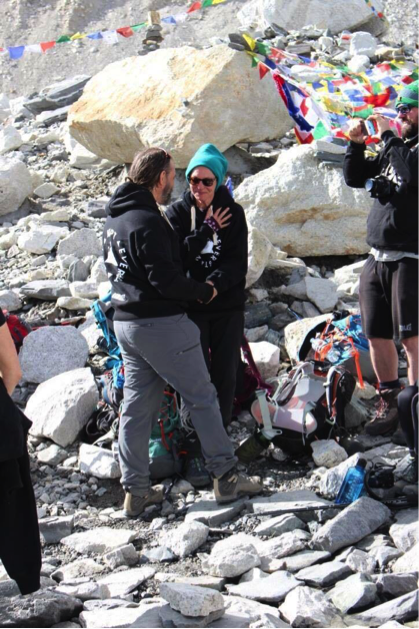 (Jeff popping the question)
We also had an engagement story that will put all others to shame; amongst the puffing and panting at Basecamp, Jeff summoned the energy to ask fellow MPT'er and girlfriend Kate to marry him. Well done, you two!
Our Wonderful Guides and Porters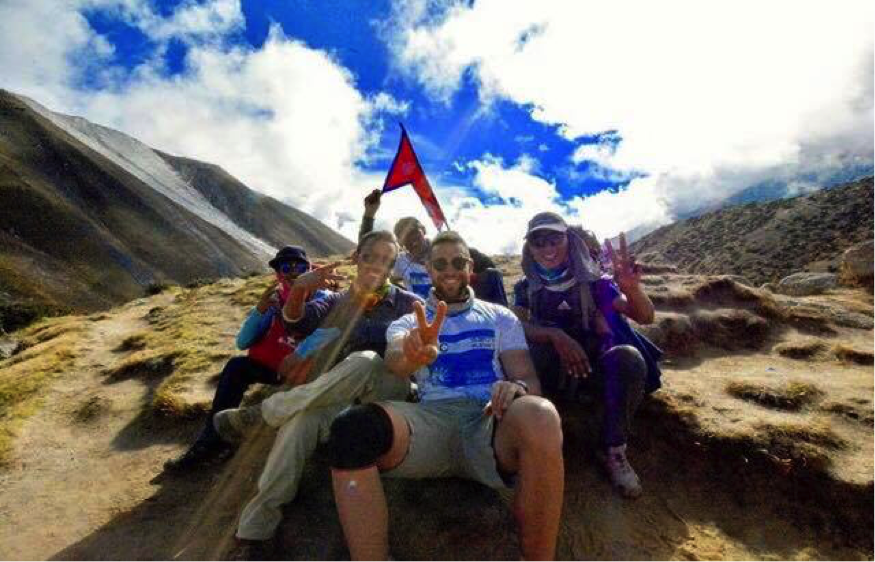 (The best guides in the world; Nurvu, Ishwor, Mingma and Purrba)
The job these men do cannot be understated; they are truly amazing. Ishwor, Mingmar, Nurvu and Purrba; names I will never forget. Thank you, guys, for your support, humour and patience. A trip such as this would not have been nearly as fantastic without you all. You are great men.
So there you have it; Base Camp 2017 done and dusted. We are already planning Peru-Machu Picchi-The Amazon 2018. I honestly can't wait to journey over there with our MPT crew.
If you would like more info on this trip, please click HERE and register your details.