Delicious and Healthy Raw Chocolate Slice
Vegan Too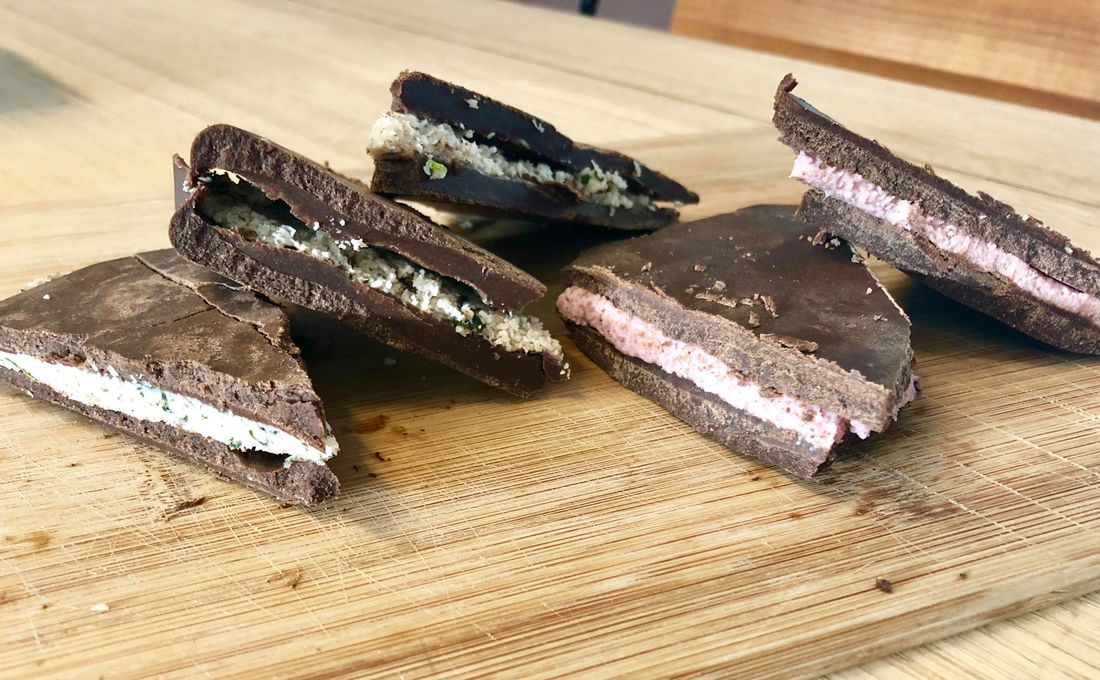 Next time you feel like devouring a whole block of Cadbury chocolate, why not try something that is homemade and has almost 50% less calories.
I love cooking with real fruit because it tastes so delicious, and i know exactly what is in it.
Feel free to mix up your flavours as well. My other favourite is raspberry and fresh mint!
INGREDIENTS:
Chocolate Base
1 Cup Melted Coconut Oil
1 Cup Cacao Butter
1 Cup Sugar Free Maple Syrup
1 Tablespoon Tahini
1 Pinch Cinnamon
1 Pinch Himalayan Salt
1 Teaspoon Vanilla Extract
1 Tablespoon Cacao Powder
Strawberry Filling
1/2 Punnet Strawberries
1/2 Cup Desiccated Coconut
2 tablespoons

Sugar Free Maple Syrup

Pinch Salt
1/2 Teaspoon Cacao Powder
METHOD:
1. Combine all the chocolate base ingredients in a food processor.
2. Line 2 trays with baking paper and carefully pour the mixture evenly in to 2 evenly shaped squares.
3. Freeze the chocolate for a few hours until set.
4. Combine all the strawberry filling ingredients in a food processor.
5. Pour the mixture on to one of the chocolate squares, and add the chocolate lid on top.
6. Freeze again and serve once set.