How Christian lost 8% body fat and 5.5kg's in 6 weeks!
Christian was our overall male transformation winner in our 2015 Summer 6 Week Challenge. Seeing as it is now the start of our next 6 week challenge for 2016, we thought it would be a perfect time to share his story. Take note as he shares his tips and tricks on how he managed to get the amazing results he did.
About me:
Hi Im Christian, Im 23 years old and love my sport, I play footy and used to play cricket as well but recently stopped that to concentrate on my footy and keep my body fresh. I have just finished uni studying civil engineering and am now working fulltime as a project Engineer. Growing up I had always been overweight and I didn't eat right. I dislocated my knee 3 years ago 3 times in the space of 9 months which required surgery to fix about 2 months after surgery I weighed the heaviest I ever weighed which was 108.7kg and I thought enough is enough I need to finally take action. I managed to get me weight back down to 96kg and had a really good year of footy. I then decided to try MPT out to see if I could push myself further.
How long have you been training with us:
I joined MPT through the 6 week challenge which started 9th of November, my lovely girlfriend Cass was already going to do the 6 week challenge and I thought I would give it a shot to really see what I could achieve to help my footy and it would be good for us to work together to achieve our goals. I also wanted to see what MPT had to offer after talking with fern a couple of times.
What made you want to keep training with us? What do you love about MPT?:
After the 6 week challenge finished on Dec 20th I decided to keep training with MPT due to 2 main reasons; 1) THE CULTURE: this is the biggest reason and why I believe MPT is so successful. They have built a culture that is like a family. No one is afraid to say hi or help one another out. Everyone is there to achieve their own goals for different reasons but everyone is treated equal. It doesn't matter if it is your first time at the gym and overweight or you have been to many gyms and want to tone up; everyone treats everyone equal and is more than willing to help each other out. Either by spotting them or giving each other advice on things that have helped them achieve their goals. This culture has been really motivated by the passion and drive to help by Fern and Trav as well as the other trainers. I have often compared the gym similar to the footy club I play at, as everyone gets along and are all there to help each other get to where they want to be. 2) IT WORKS!! After seeing the results I achieved after the 6 week challenge I know it works. Using the tips and nutrition advice that they preach at MPT I was able to achieve amazing results.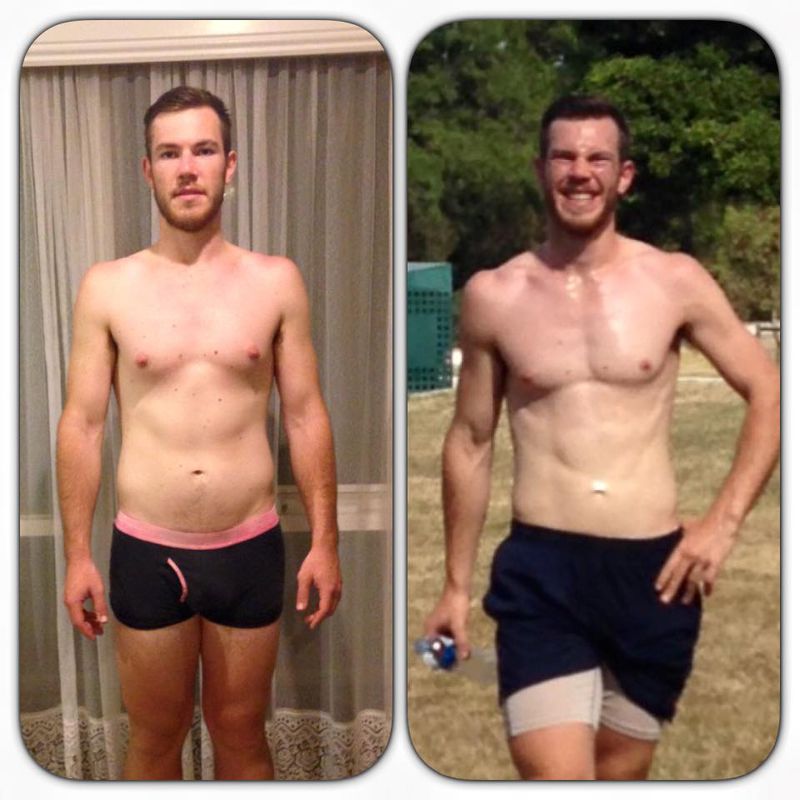 What results have you achieved?
I had one major goal when starting the 6 week challenge and that was to get under 10% body fat. I also had 2 other goals which were to get 42 out of 42 correct meals by week 6 and also dumbbell bench press 30kgs each hand. I also set myself the challenge to give up drinking alcohol for the 6 week challenge. After doing the challenge I averaged 40 correct meals a week and had 2 drinks at my sisters 21st, although I did not achieve giving up alcohol for 6 weeks this was a success in my eyes as it was important to toast with my sister. The results came in and I smashed my results. I was able to go from 15.5% body fat to 7.49% body fat in 6 weeks. Although I went to the extreme to achieve my results it is now a standard of the way I live my life by getting 38/42 meals a week and drink occasionally rather than regularly.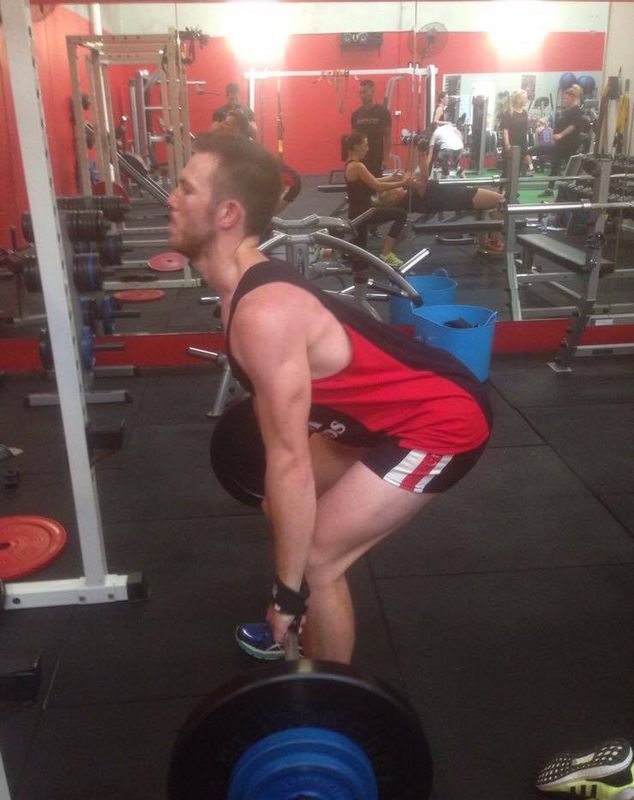 How do you find a good work/life/gym/social balance?
Trying to find a good balance is always hard because to be really successful in one area you have to limit time in others. At the beginning I did find it hard to get the balance right. This was due to a number of reasons, one major one being my cooking skills were quite low so it would take me a while to prepare/ cook the correct meals. Now I believe I have a great balance in all aspects of my life and this has come with being more organised and I have Cass to thank for that as she is a very organised person and helped give me tips. Some tips I have implemented have been now I do my gym training Tuesday and Thursday morning due to footy training taking up Monday, Wednesday and Friday nights, this sacrifice of getting up early Tuesday and Thursday morning to workout allows me to have a good social life/ training balance during the week now rather than having to do all my socialising on the weekends. I have also structured my days at work to allow me to eat my 6 meals a day evenly.  
Some of the toughest parts of trying to eat well and train often?
Since really committing to footy I have never found it tough to train often as I'm lucky I get my training regularly, but I did find it tough to work out in the gym while I did have footy without my social life taking a hit. When it comes to eating some of the toughest parts were mixing the meals up so that it doesn't get repetitive and doesn't get boring and also explaining to people what you should eat at certain times of the day, for example when others are having pasta at night or potato and you explain you can't have that unless you have worked out.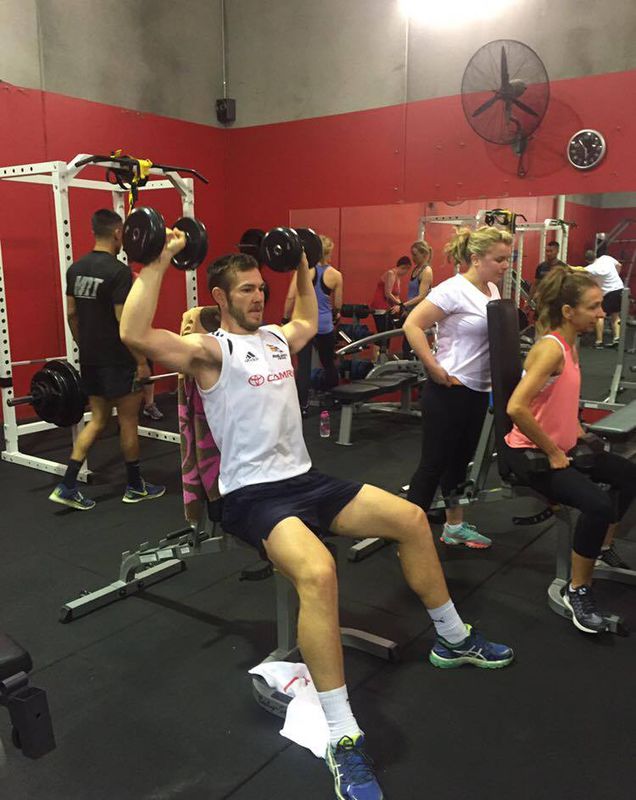 What you've done to overcome them?
To overcome the training often effecting my socialising, I moved my gym sessions to the morning which allows me to catch up and socialise after work during the week. With stopping the food from becoming boring and repetitive using other people at the gym for meal ideas is an excellent help as well as looking up your favourite meals and seeing what you can add to replace things you shouldn't have has seemed to work. But the main thing is doing meal prep on a Sunday with a range of meals which not only frees up your time during the week but allows you to mix and match during the week with different meals. When it comes to people asking I have now decided instead of explaining and why I am doing what I'm doing, I just say cause I don't feel like that right now. It's easy and they don't ask any more questions.
How amazing is that? Christian proved that with the right mindset, the correct nutrition and a change in exercise you can achieve phenomenal results. Congratulations Christian.
For more information on Christian's transformation or to be our next success story, email us at info@mpttransformations.com.au