From 35% body fat to Bikini Model Competitor
Andy has been training with us for the last 18 months and continues to go from strength to strength. Sometimes we forget how people 'used to be', and Andy is one of those people who you always think have been fit and healthy. However, that has not always been the case.
Since training with us she has gone from 35% body fat to 11% body fat and we just couldn't be happier for her!
Here is her story...
I have been in and out of many gyms – ladies only ones, mixed gyms, power lifting gyms, transformation gyms, had a couple of PT's both male & female & bootcamps! And to be honest – I never really knew what the hell I was doing! I was either feeling intimidated in the mixed gyms, embarrassed because I did not know how to use the equipment & I was even too scared to ask. I used to try & copy what other people did at the gym & was way too scared to lift any big or heavy weights! So I was going- yes, trying- not really, getting results – definitely not! But, I thought that "maybe that's actually what it is supposed to be like & that you just had to be 'lucky in the gene pool' to be lean & have muscles…
Then in 2013, a drunken man fell accidentally on me & broke my leg & ankle in 3 places, so I had what was classed as quite a major surgery & still have 3x plates & heaps of pins in my leg & they will always stay there for life now . I was in hospital for a couple of weeks totally immobile. Then when I went home, I was only allowed out of bed for 1 hour per day for 3 weeks! To cut a long, boring rehab story short – I was in & out of hospital, more surgery & rehab (to actually learn how to walk again) for around 9 months. The Orthopaedic Doctor actually told me I would more than likely NEVER go back to gym or do any weighted exercises for risk of breaking my leg above or below the plates.
Along with this, during this time, I had a lot of friends & family visit me – and all of them brought me food, cakes, lollies, chocolate, snacks etc… I didn't even notice how much weight I had stacked on over 9 months. A LOT.
Before all of that happened, I was a size 10 & happy enough with how I looked & felt, even though I was a huuuge party girl – every weekend without fail was drinks & going out. I ate a pretty standard persons diet, a bit of everything, sometimes too much of things, but I never really thought about it any deeper than it just being 'food'.
After seeing a photo of myself at a friend's wedding – I was in one word, MORTIFIED at my appearance. I knew how to dress & do good hair & make up to distract myself & make myself "look" good but when I think about it now – there are not a lot of photos of me during this time as I completely avoided them.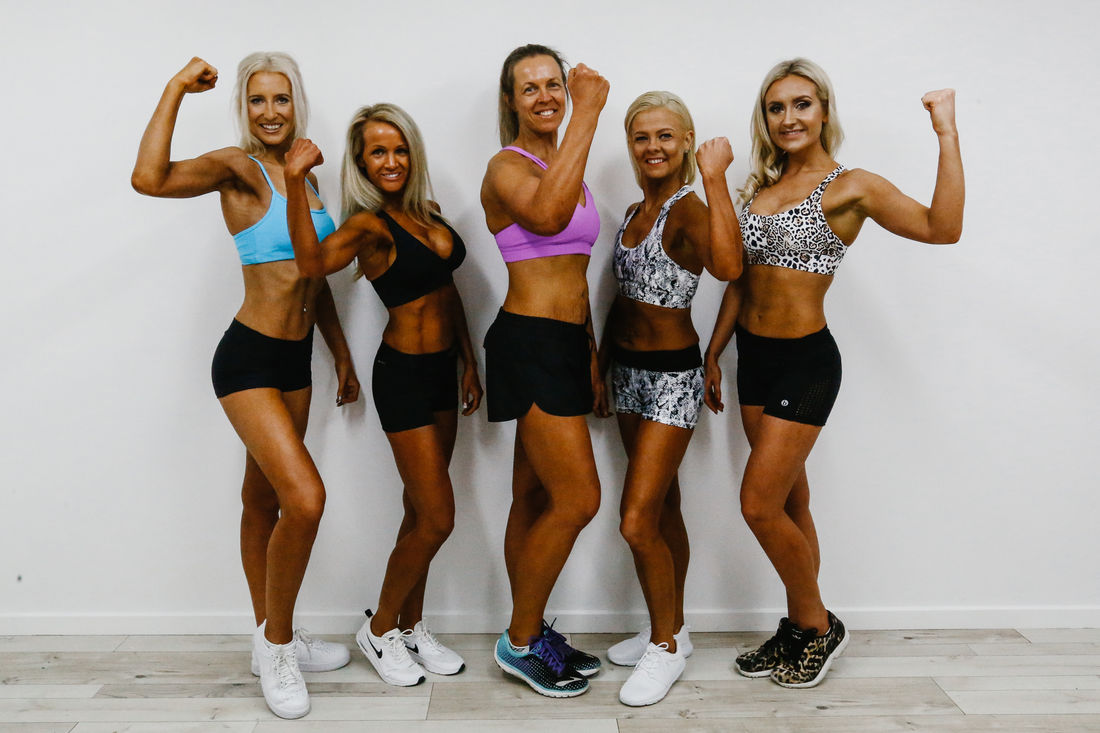 So, I joined MPT in April 2016 for a 28 day challenge after seeing it on Facebook for $97. I thought – if I don't go at all, it's only $97 dollars… but I did go & even though as usual the 1st time I walked in – I wanted to walk straight back out again because I was scared of looking like an idiot, but I stayed & it was by far one of my BEST life decisions ever! I will be honest & say I did not put 100% into my 1st 28 day challenge but I still got some results & that inspired me to sign up & stay another 3 months – annnnd I'm still here now & I still love it!
My life prior to comp prep was pretty normal I would say & busy. I work full time & was always doing stuff for others – every.single.day. Without even thinking about it, all I ever did was for everyone else. The only one thing I did have for myself was my semi pts at MPT which I LOVED! So, I decided, I wanted more of a life for myself & wanted take better care of myself & do things I wanted & loved to do.
I still was not sure what that was though. As I had seen previous comp girls go through MPT, I always wanted to be like them or one of them – but it was just a dream at that point. And then, I met Heather my #1 best gym pal who I love so much. Heather did comp prep end of 2016 through to March 17 & I trained with her pretty much every session & watched in awe, her transformation, her dedication, and just wished that maybe one day I could try and do that. I got so very intrigued about the whole process & was amazed really & just wanted to know more & more about it all every day. I used to annoy Heather with so many questions & then she suggested I should do it the next round. I actually thought ahhh, NO WAY! And then I asked our beautiful Fern who said "of course you could do it".
Fern, my coach, there are no other words to describe apart from all out inspirational. Fern supported me the entire process from day 1 to comp day! She was always there through good times & bad – tears & happiness, stupid questions from me that I probably asked multiple times & me constantly changing my mind about doing it, not doing it. Patient, understanding, available, positive and at the same time, realistic.
Chris was also a gold mine for me in particular as I have to know everything – as in you can't just tell me to eat something or, do an exercise, I need to know why & the benefits/ reasons for it. And this man, I swear, is a walking, talking encyclopedia of all things health, fitness & food related!
And Luke, I trained most sessions with Luke because I like the way he trains – he will always push me to my limits – even if I say no – he will make me do it anyway. He explains everything if I ever ask and is always checking/ correcting etc. Luke does not believe in "no, or I can't" – he will find something different for me to do if I really for some reason (ie/ ankle) cannot do. A great trainer who is very motivating, encouraging, knowledgeable & patient.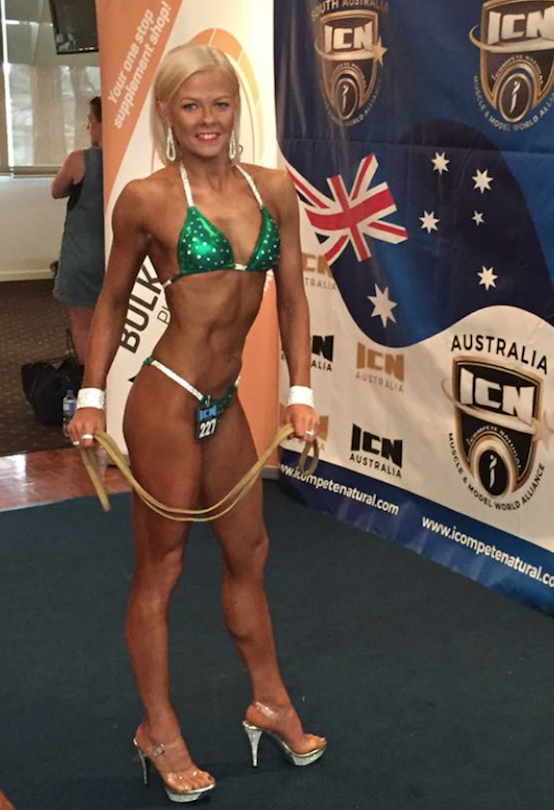 Comp day arrived! How did I feel? Excited, proud, happy but more so nervous & scared! So many competitors & I could not believe I was there with them – one of them! The experience was amazing – everything from that one in a million tan, to wearing my beautiful bikini, I really felt a million dollars! My goal for that particular day was to not be the 1st girl at ICN to fall over on the stage, or freeze, or forget my poses!
Fern, Chris, Luke & Kerri were there for support with all things – pump up prior to stage, posing practice, watching us on stage & giving feedback, and even Kerri had to help me with a super quick wardrobe change. The things our trainers do for us. I felt 100% supported by MPT on the day.
My 1st time up on stage, I walked out pretty cool, then I looked at the judges & into the crowd & got very nervous again. I just looked around & saw one of my friends in the crowd & she had the biggest smile & was waving furiously to show me she was there – then I knew everything was going to be ok. And it was! The round had finished, as we waited in the line up for the places to be awarded I was actually looking out into the crowd for MPT'ers & then I heard my name! Yes – ME! I was shocked, surprised, so very happy & so very proud! I walked up to 3rd place & I was actually smiling so much because I just could not believe it. ME. My dream & it came true! I could not wait to get off the stage & run to Fern to show her my medal!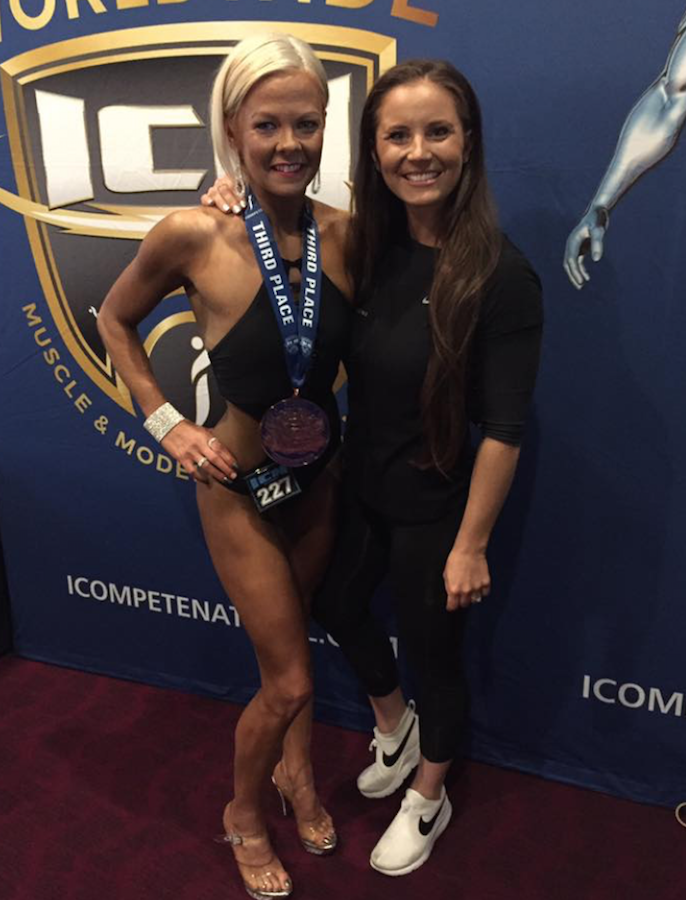 My number 1 tip for anyone who thinking about competing would be talk to Coach's Fern/ Chris & any previous competitors & find out about the whole experience & process & what is involved.
I love training at MPT because it is more like an actual family, not just another gym. There is always someone to talk too, trainers or members. Everyone, even the other members care about each other's results & support each other every step of the way. It is a results based environment, so if you aren't achieving your goals or results, the trainers will not rest until they find out why & they will 100% help you to change or guide you on what you need to do. You are never alone.
I have made some great new friends here at MPT. Surround yourself with those who reflect who you want to be and how you want to live.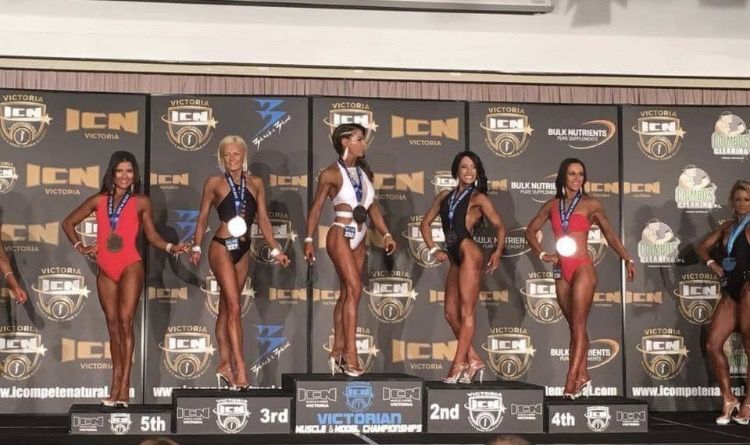 Since joining MPT I have achieved great results, I have lost 20kg & 24% BF. I am much healthier in every single aspect of my life now than ever before in my whole entire life. Nutrition, strength, mindset. Goals! Goals! Goals! Everyday for all 3!
And one thing that I have achieved since joining MPT is I now know I can undeniably say that this is my genuine number one passion - health & fitness. Many more goals to be set & smashed asap!!!
#dreambig #workhard #stayfocused #girlswholift #compgirls #happiness #ilovempt